Mid-July 2022, after 3 long weeks stuck on the dock, the throttles came back with the friction properly adjusted (getting it from UPS become a fun scavenger hunt that had Kevin biking all over the city of Valencia in the dead of summer to find the shipped box) and a lot of work fixing broken battens, we got back to sailing. And minus one scary moment where I thought Kevin fell overboard for far too long (funny now, not at the time) when he had climbed up and into the sail bag to fix something and I totally missed it, we were really getting comfortable sailing her and were ready see how we would fair on a few nights away from the marina. 
We had also gotten pretty comfortable anchoring for a few hours during the day at this point having spent a few days off-and-on anchoring just outside of the Valencia Mar Marina near Playa de Salor. We also made sure we could make water when our Schenker watermaker (not that we would need it on an overnight, but it was good to know we had the capability if we couldn't get back easily. Now…we were ready to overnight!  In planning, one thing the Mediterranean-side of the Spanish coast seems to lack is protected anchorages. The closest spot we found that seemed fairly calm and accessible with decent reviews and a 4-star rating on Navily was Cala La Sardinera. Here, we should be well sheltered from South and East winds, which is primarily what we would be expecting.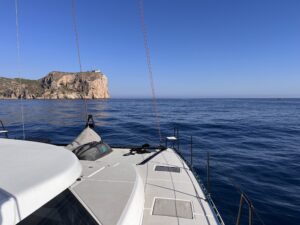 Cala La Sarinera: Our first overnight trip
Cala de Sardinera de Javea is a small virgin cove located on the northern slope of Cap Prim or Sant Marti in the province of Alicante, Spain. The cove got it's name because in the past it was the perfect place for sardinals, small fishing boats that would go out twice a day to fish via "drift netting".  The area is known for its crystal-clear waters, rocky surroundings, and secluded location which makes it a popular spot for snorkeling and diving due to its underwater caves and diverse marine life.  Perfect!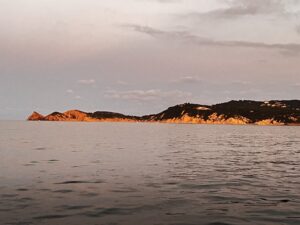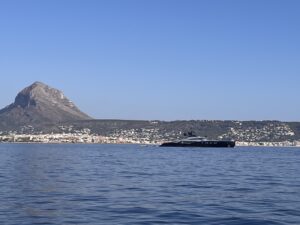 On the 20th of July, we left bright and early around 0800 from Valencia to start our 52 mile trip down the coast.  We didn't quite get the winds were were expecting and it was slow going with the main and jib up. This made for a long day! We wanted to get there mid-late afternoon to have good light to pick a good mooring spot as the forecast was calling for some crazy winds to start up around midnight, but it took us 12 hours to get there at about 4.5 kts, so we arrived as the sun was setting. Made for great arrival pictures.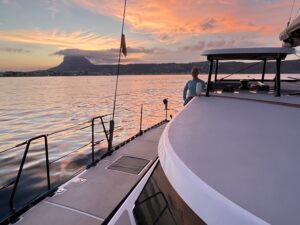 The "anchorage" itself consisted of a first-come, first served mooring field mostly populated with day-trip partiers.  The bottom is mostly rock as evidenced by the large surrounding cliffs defining the small cove, hence the moorings. If you happen here, I definitely recommend coming in during the day. We know of another boat that moored and swung into a large underwater rock he didn't initially notice when he chose the spot. We had one in our swing zone that I had to dive down and make sure we would swing over it. It was close, but we cleared it by about a 1-2'  Err toward the middle moorings if you have a choice and deeper keel. Also check the mooring lines, some were quite frayed under the surface. Once the sun set, the day trippers left and we were left with calm and quiet amongst the incredibly scenic backdrop. I can say, having never moored before as the winds picked up and started pulling us on the mooring toward the rocky cliff walls…I (Erin) did NOT sleep well that first night constantly looking out to make sure we weren't headed toward disaster!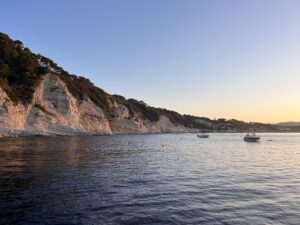 The next day turned out to be beautiful!  I dove in the clear warm water and had my first experience with the masses of sunbeams that follow you where ever you go. We went for a dinghy ride around the cala checking out the cliffs and getting our first good shots of the boat on the water to send home. And because, boat life, we had some work to do fixing up a couple more battens that were having some issues. About mid-afternoon another fun treat came drifting our way. A tiki hut of a boat tossed us their line and offered us fresh mojitos!  We had some European funny money on hand, so don't mind if we do! The went to work blending us up some adult beverages…using, wait for it…and pedal powered blender. GENIUS!  And I have to give their mojitos 5 stars! DELICIOUS!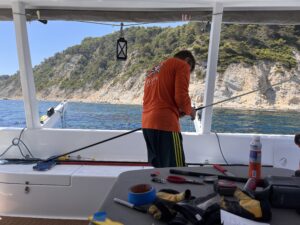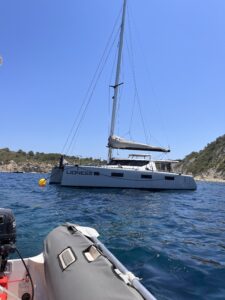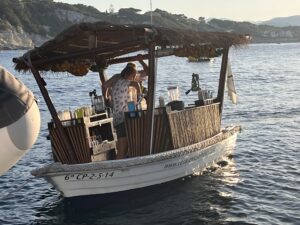 We spent one more night on the mooring then headed home the next day, flying the spinnaker the whole way back, making much better time! It turned out to be the perfect location with a beautiful lively area during the day followed by what turned out to be two very quiet tranquil nights.