After a lot of research, in March of 2021, we signed a contract for a Vision 444 (Hull #4) already working its way through the production line in South Africa. We had the option to "get in line" and put a contract down on a future Vision hull that we could fully spec out, but a few factors led us to take a chance on the already spoken for hull. Primarily, our goal was to move aboard shortly after we were fully retired from the Navy and had our affairs "mostly" settled…military and medical paperwork complete, house, cars, belongings sold, primary residence established in a new state, etc. You know, tying up a few loose ends as one does before a major life changing event like moving onto a boat full time! Having settled on Vision Yachts as our catamaran of choice, the next available hull was not going to be delivered until mid-2023. We were looking to move on in early to mid-2022.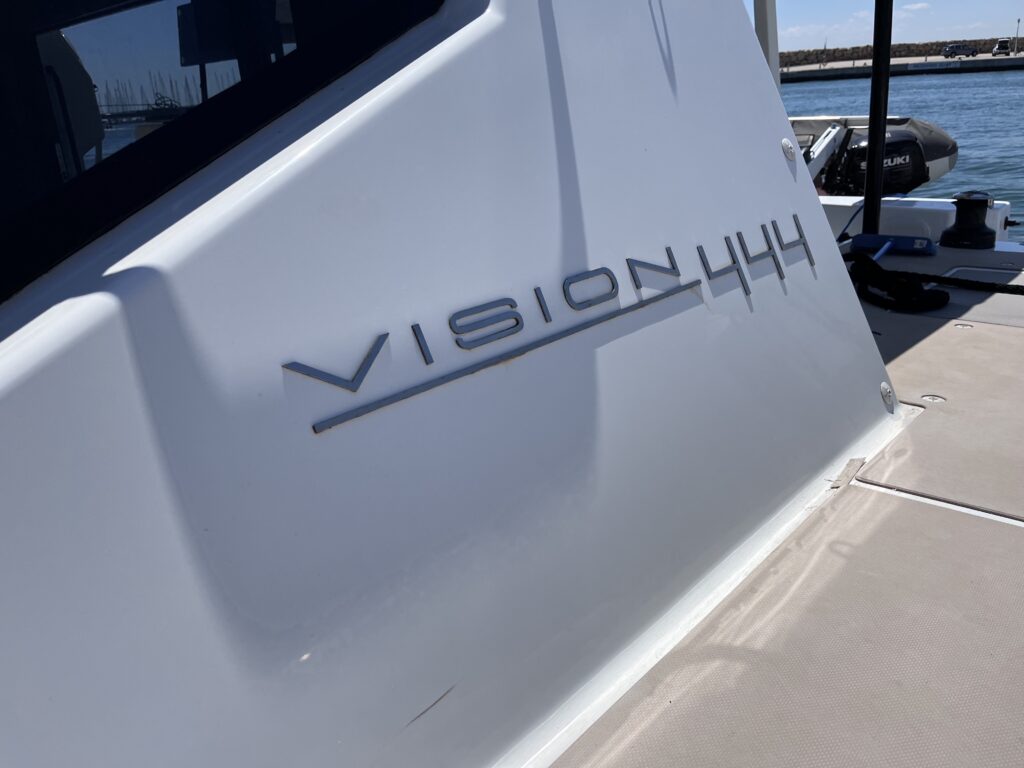 Additionally, the hull in question was originally purchased by an investor, who had two products he was invested in being installed on the boat. The first was of particular interest to us. The catamaran had twin Oceanvolt electric sail drives installed to provide propulsion. This is something we had done a lot of research on and were keenly interested in (more on our initial thoughts on the set up later in a more targeted post). The second, and a bit of an unknown, was a new and very unique sail system, the Advanced Wing Systems (AWS) Semi-Rigid Wing (SRW) was to be the rigging on the boat. It was a high-performance rig consisting of two main sails with full battens connected to a rotating mast. Not our first choice of a sail system, but we talked with the owner and the developers prior to accepting the boat and knew this prototype rig/sail was the biggest question mark on the boat, but the design and theories seemed sound. This was their first attempt at installing the AWS-SRW on a catamaran, nevertheless a cruising catamaran. We'll write up more on our experiences with this rig later as well.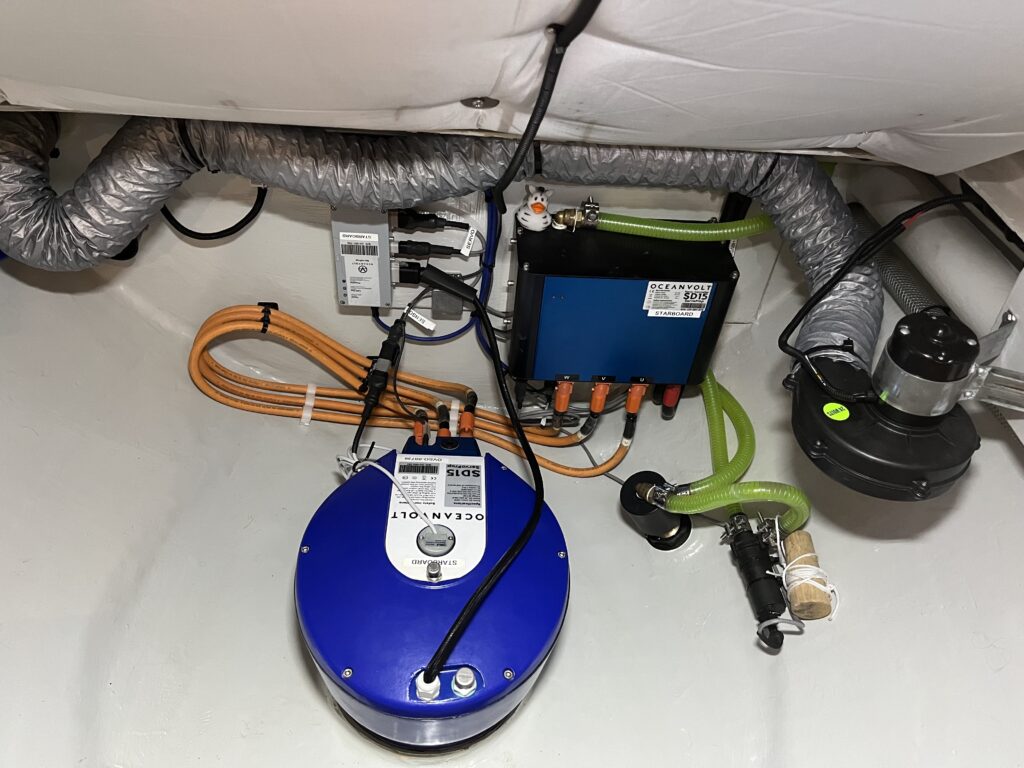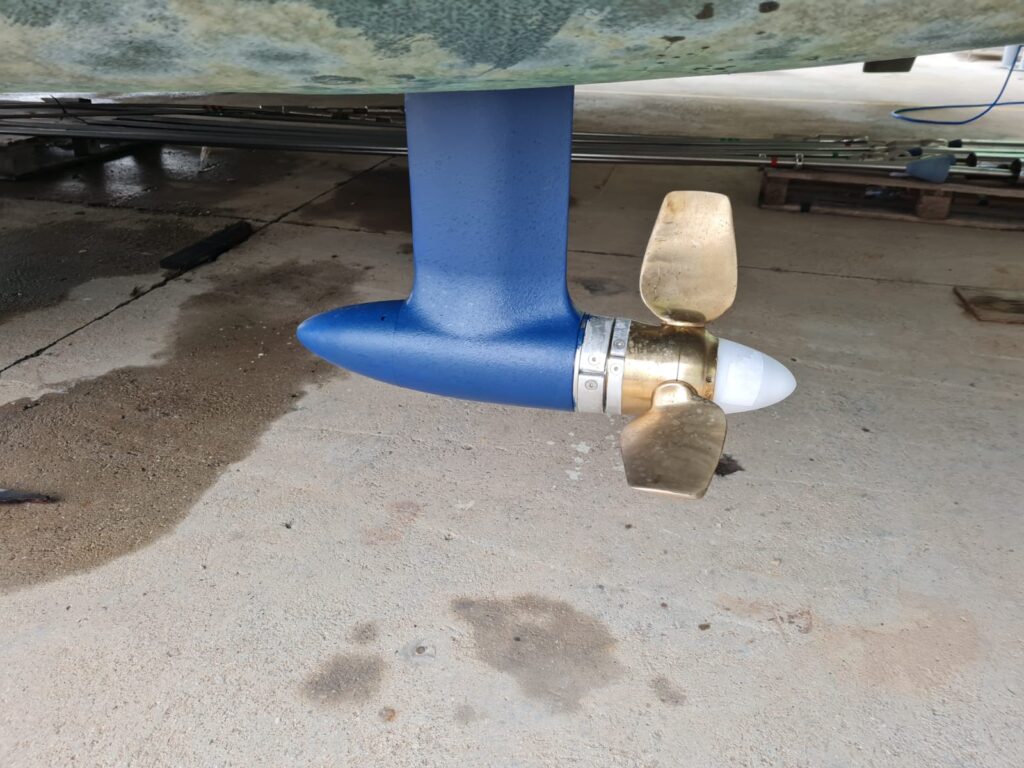 The investor originally purchased the hull with the intent to show the boat and these systems at various locations/shows around the Mediterranean and potentially beyond. He intended to then sell it after a year of showings/test sails which fit our timeline exactly. Perfect…we thought. The initial owner would then deliver the boat to the Caribbean/Florida area, where we would take the boat over. The plan was simple enough and the pieces were lining up and so we moved forward with a plan. But as many things do, the plans went a bit awry.
First, a small virus called "Covid" was currently wreaking havoc and bringing the world to its knees lasting much longer than anyone anticipated; we watched from afar ad the boat slowly creeped along the South African factory production line as manpower and logistical shortages began adding up. Even with all this, Vision444 hull #4 left the production line in March 2021, only a few months behind schedule. The boat needed to be out of South Africa and heading to the Med as soon as possible since the weather window to move the boat up the Atlantic to the Med was quickly closing. Departing in the summer equals a much tougher sail through potential hurricanes. Delays continued to occur during sea trials & commissioning. Not Ideal. We were not there for that, but followed from a distance as they rushed to tie up loose ends and fix lingering new boat issues. The boat finally sailed away in late June, later than expected, and from what we gather talking to the crew on board, some work still needed to be done, leading to a tough sail in very adverse conditions on their way North.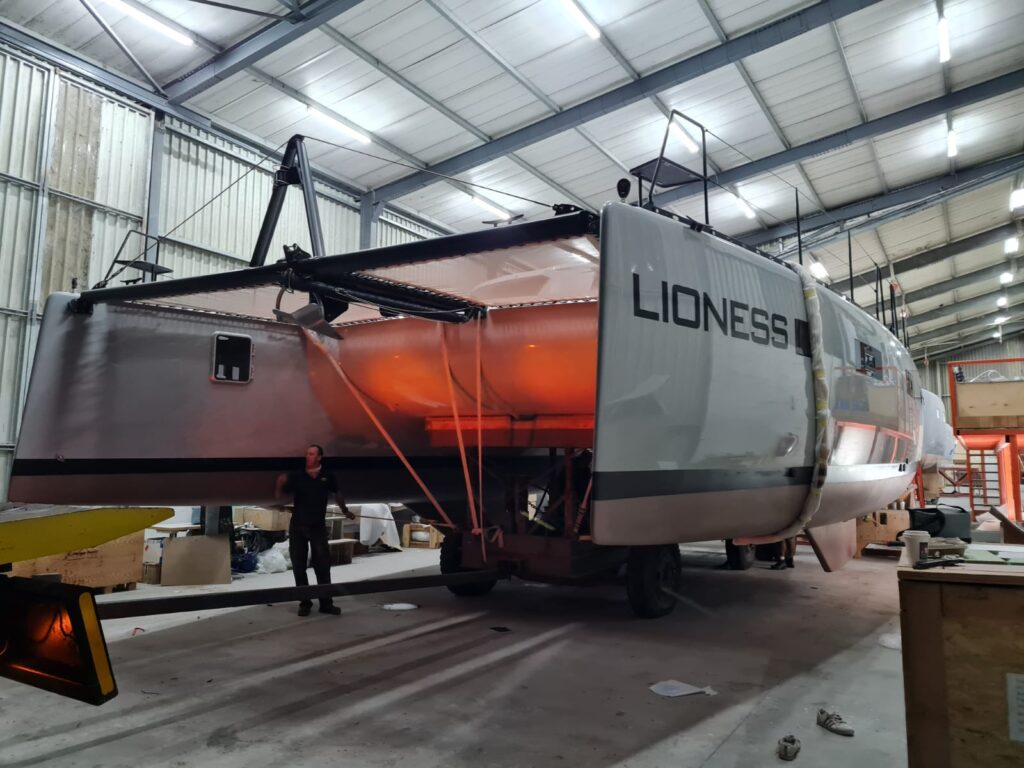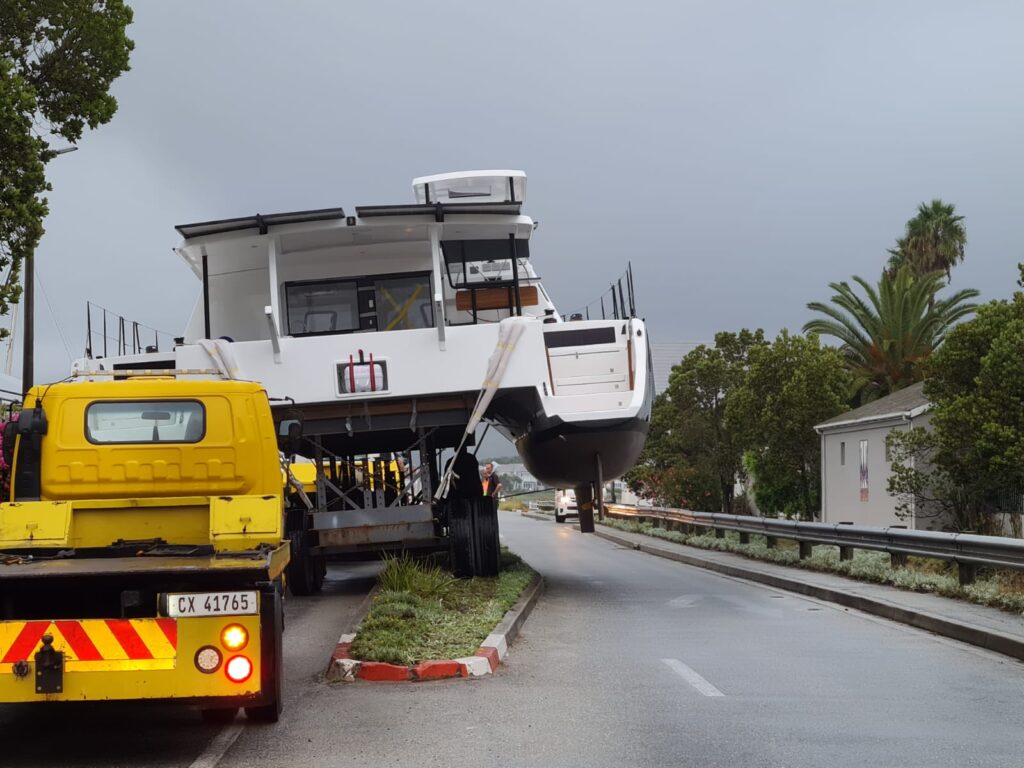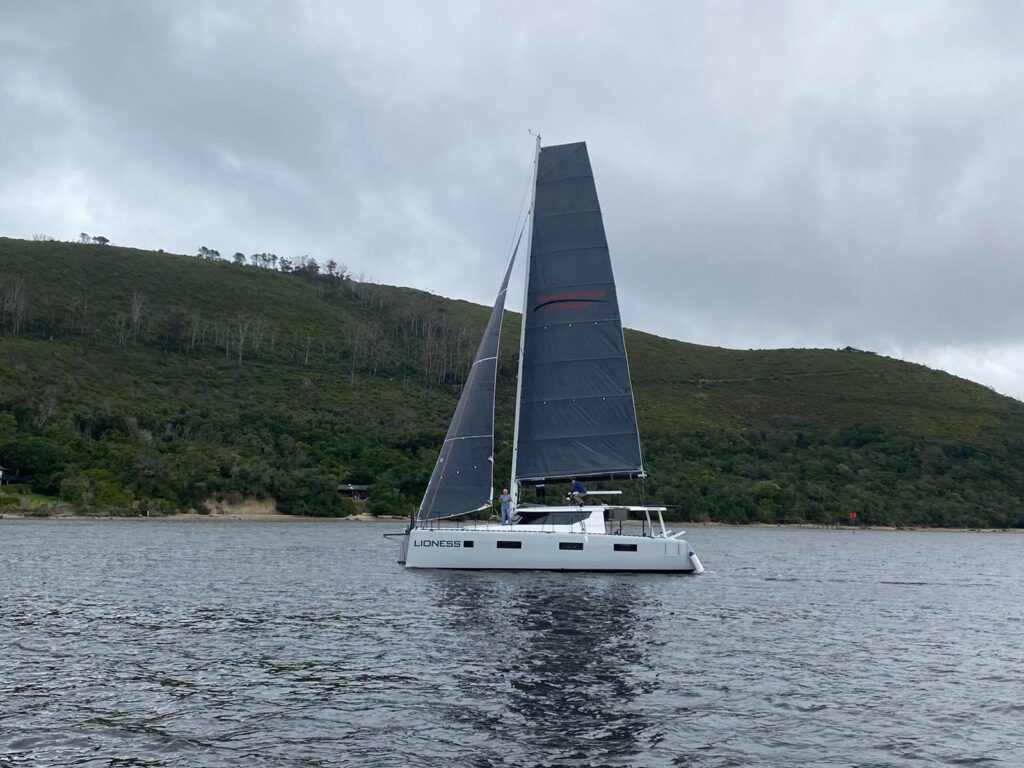 The boat arrived in Valencia, Spain's 2nd biggest port and 3rd largest city, in August 2021 after what sounded like a fairly arduous sail… where sadly, it sat…and sat. The vessel was quickly hauled out for repairs and touch ups. First and foremost, it needed new motors.  The original Oceanvolt sail drives and Fischer Panda Generator were not working as expected. It turned out to be two separate problems. Oceanvolt realized the problem with the motors and replaced both immediately. (Side note: Later after months of troubleshooting, we realized there was also a configuration issue with generator which took multiple companies around the world to solve. More on that in the next post.) The rigging was also unstepped, inspected, and re-stepped (removed, checked out, adjusted and reinstalled). The initial reports were that the SRW performed exceptionally well in the delivery to Valencia, generally sailing upwind the entire time, impressively sailing at 30 degrees apparent wind! Which if you know catamaran sailing angles, this is crazy (we have since seen it in action and can verify)!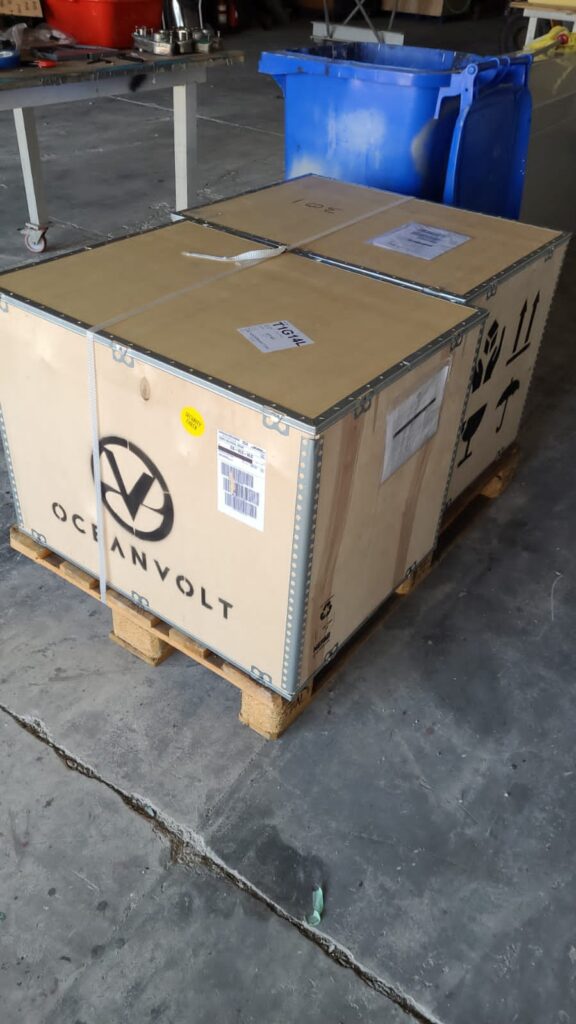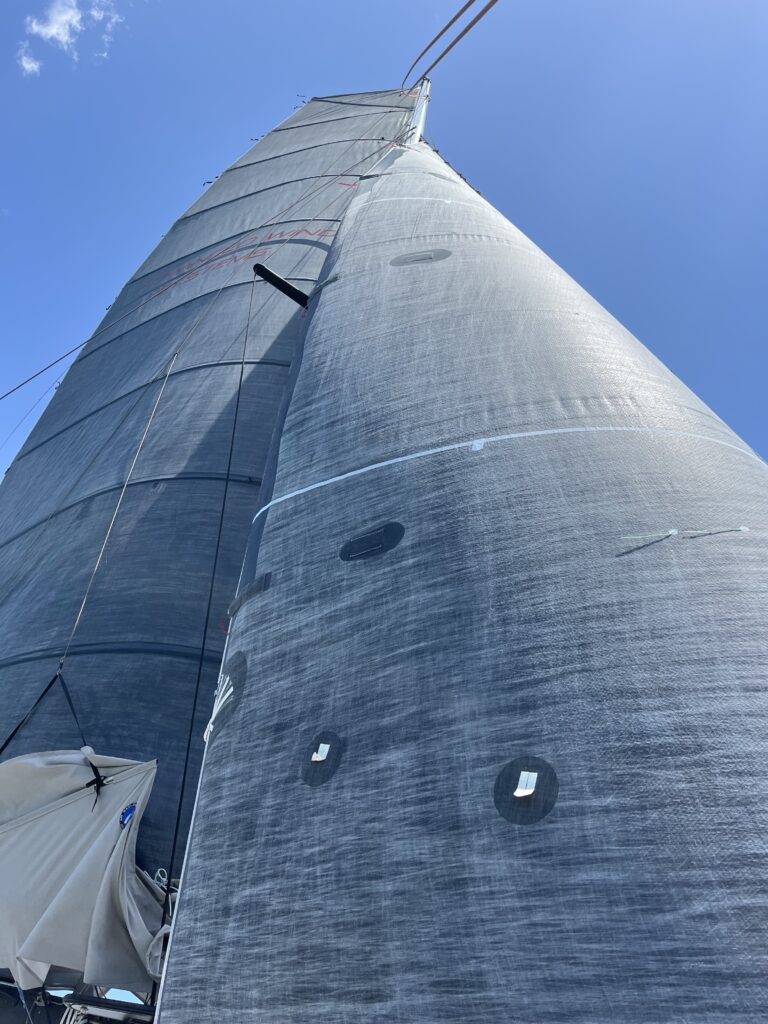 In November, the hull was finally placed back in the water for a test sail.  The new motors and sail system reportedly working very well, but issues with generator output still lingered.  Between the repairs and due to COVID restrictions and canceled boat shows, the boat never made it out of Valencia for its debut or any potential showings. Good for us as it will have less wear and tear, but not great b/c it is "untested" and unattended-to. She sailed again in January 2022, which was meant to be preparation for showings and the crossing to the Caribbean. Unfortunately,  the sail found the generator was still not producing the expected 16kw output which would be necessary for long term motoring with electric engines and, bonus, the main halyard parted. Two more significant fixes delaying the boat's departure in, once again a rapidly closing Atlantic-crossing weather window.  This is when the discussion changed from delivery/turnover in the Caribbean to team Erin and Kevin traveling to Europe; something we were greatly hoping to avoid. 
Retiring from the military was already crazy, plus selling everything and wrapping up our lives to move aboard a 44ft sailboat, we had a good plan in place to do so. Going to Europe provided next level cost, planning, and logistics, we had not budgeted for nor were prepared to execute…in four months no less. Picking up a brand new (to us) boat, moving aboard, learning how to sail it with little catamaran experience in the Mediterranean, PLUS prepare to cross the Atlantic, was going to be an uphill battle! Did we mention we were going to have to do this in a foreign country on our own and barely speaking the local language? But being former military, this level of challenge is not something we are unused to or shy away from! 🙂 As you might have guessed by now, we figured it all out, amended the contract, applied for Spanish Visas (not a cheap or simple process BTW!) and scheduled to show up in May for a full survey and turnover.
"No plan survives first contact with the enemy." -Clausewitz

We scheduled the survey for early May 2022 just prior to our arrival to make sure the boat was still up to contractual standards. ("Survey" is the marine industry name for a hull inspection done by a third party). The process can vary from a simple in-the-water-1/2-day-look, to a several day, pull the boat out-of-the-water inspection, followed by an extensive sea trial. We had opted for the latter to ensure everything was in order…I believe that Clausewitz, working with Murphy and his Laws had other ideas about this.)
The Surveyor, Investor/Owner, and one of the primary AWS designer/riggers were onboard for the inspection and would remain in Valencia for a few days to help us get acquainted with the new boat when we arrived. Days before we left the States a bit of a $h!t-Sh0w erupted. When they showed up to prep the boat for the survey/turnover, it was discovered that the battery bank had either failed or not been shut down properly, and/or malfunctioned, so there was ZERO electrical power on the boat. All while a crazy monsoon level rain event hit the area to make matters just a little more difficult. We ended up with a limited-scope survey and still no power on the boat when we arrived 3 days later. The Survey stated that other than some fixable corrosion issues and other minor items, along with normal wear and tear, the boat was in good condition.
Even with this new development (we were getting the info as we were packing up, saying goodbyes and heading to the airport), we were excited to arrive in a new country (Our travels around Valencia will need a whole separate post…maybe it's own blog) and lay eyes on the boat we had began contracting over a year prior. After checking into our little AirBnB five miles from the marina, showering off the 24+ hour travel day stink, and taking a VERY long nap (read: deep sleep) we headed to the marina, Valencia Mar, and the boat, our new home for the foreseeable future.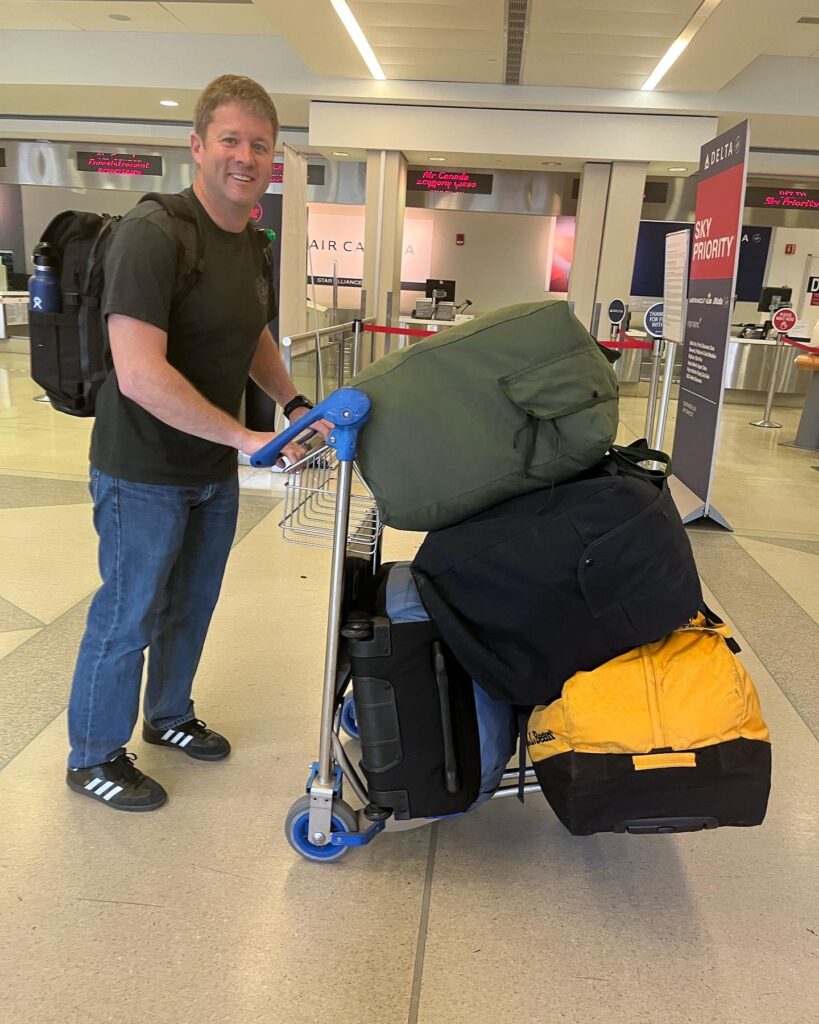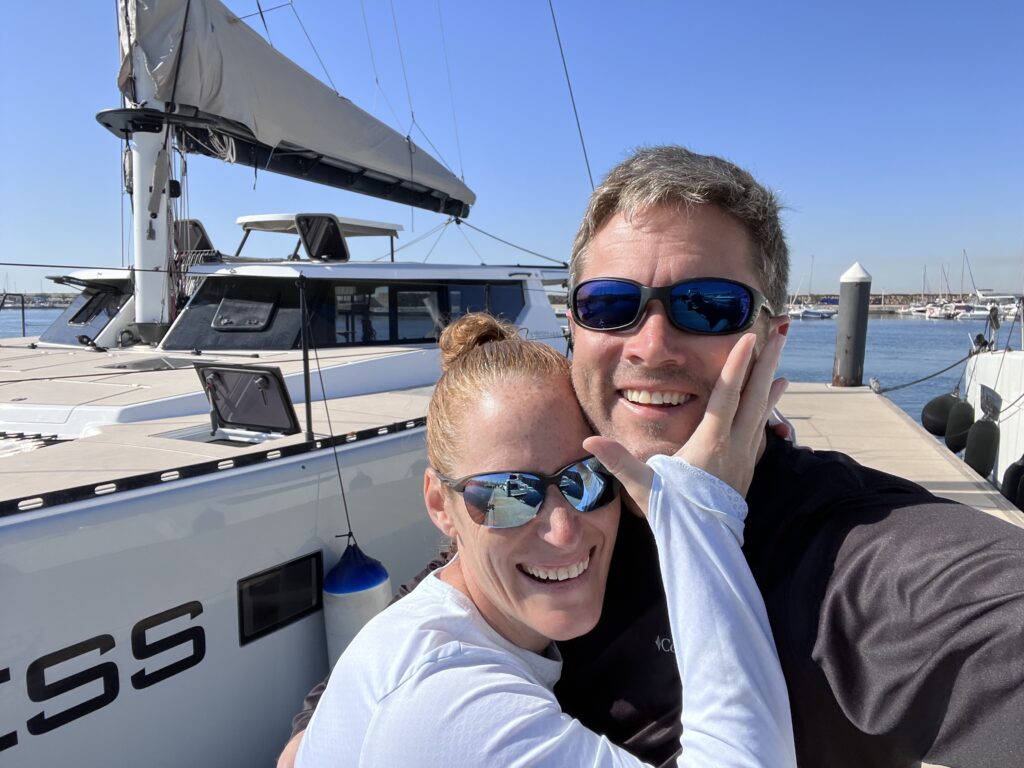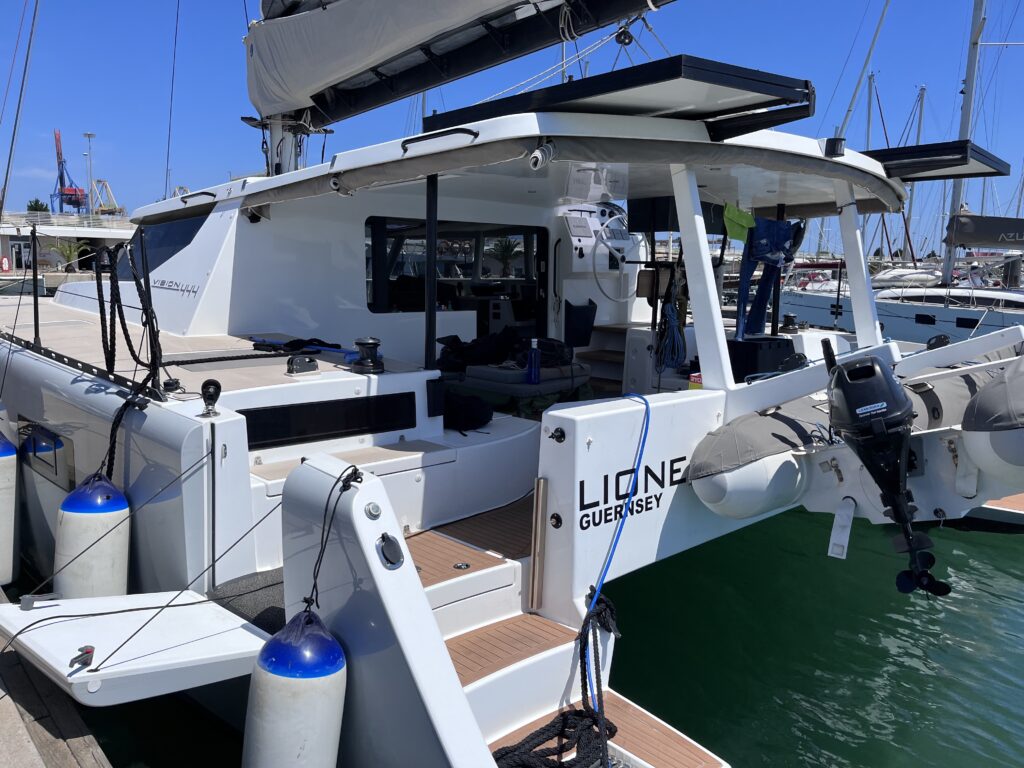 She was BIG and BEAUTIFUL! The first word uttered with eyes on… "whoa". Unfortunately, she was all looks at the moment since we couldn't do much with her. As mentioned, the batteries were all dead. It turns out to fix the problem, we had to charge each battery in the bank INDIVIDUALLY. All 12 24volt lithium iron magnesium phosphate batteries connected in series/parallel to create a 414Ah/22kW 48v bank, which provides the current that powers the motors and charges the house bank, for all the other systems on the boat, had to be charged… one. by. one. Each battery estimated to take anywhere between 8 and 11 hours, a process that took days with battery changes to a single charger around the clock. This consumed the entire planned time with the previous owner and sail designer. So, we were unable to actually move the boat off the dock before all the knowledge of these complicated systems walked off the pier and left to fly home just as we saw the first spark of systems turned on.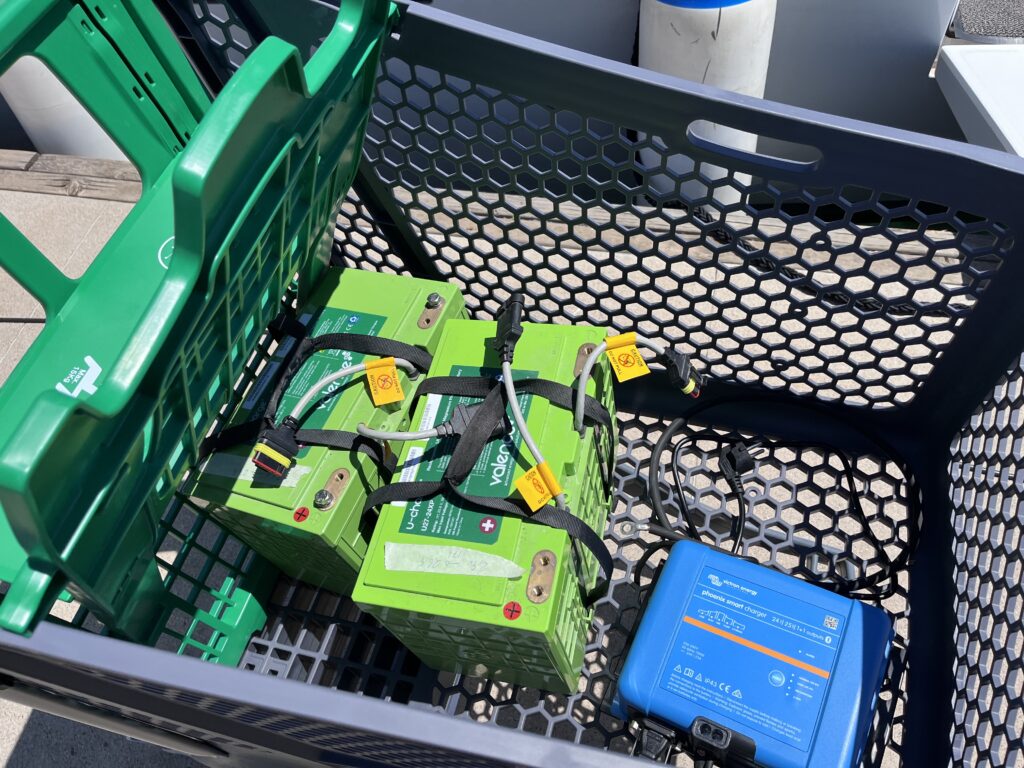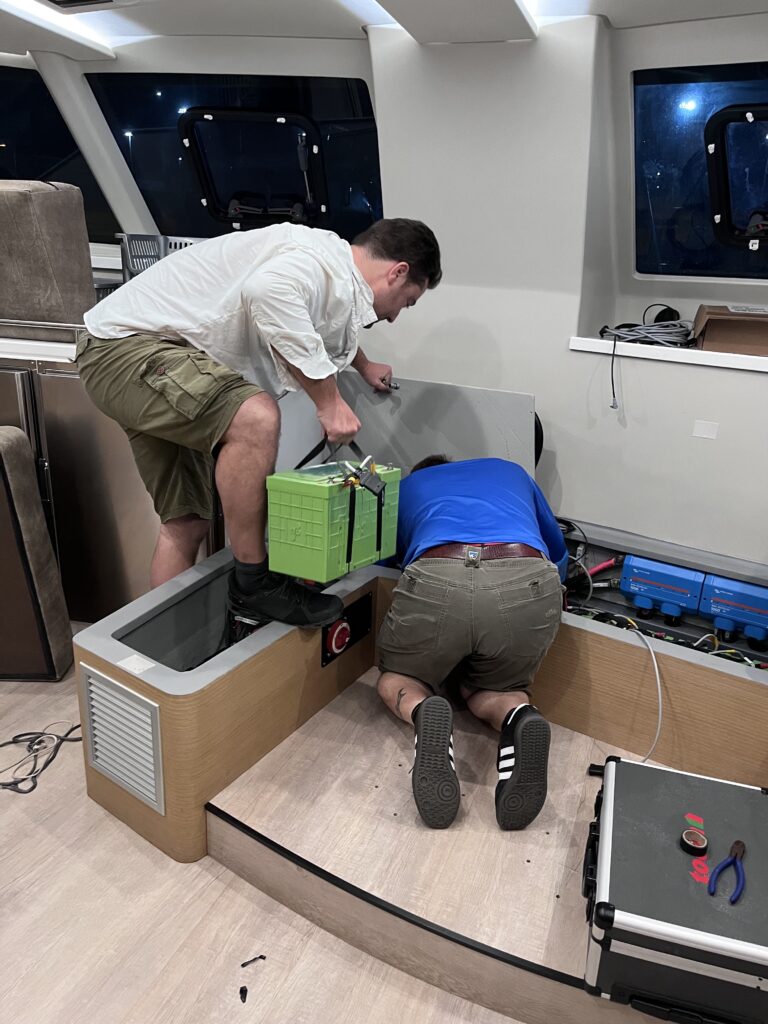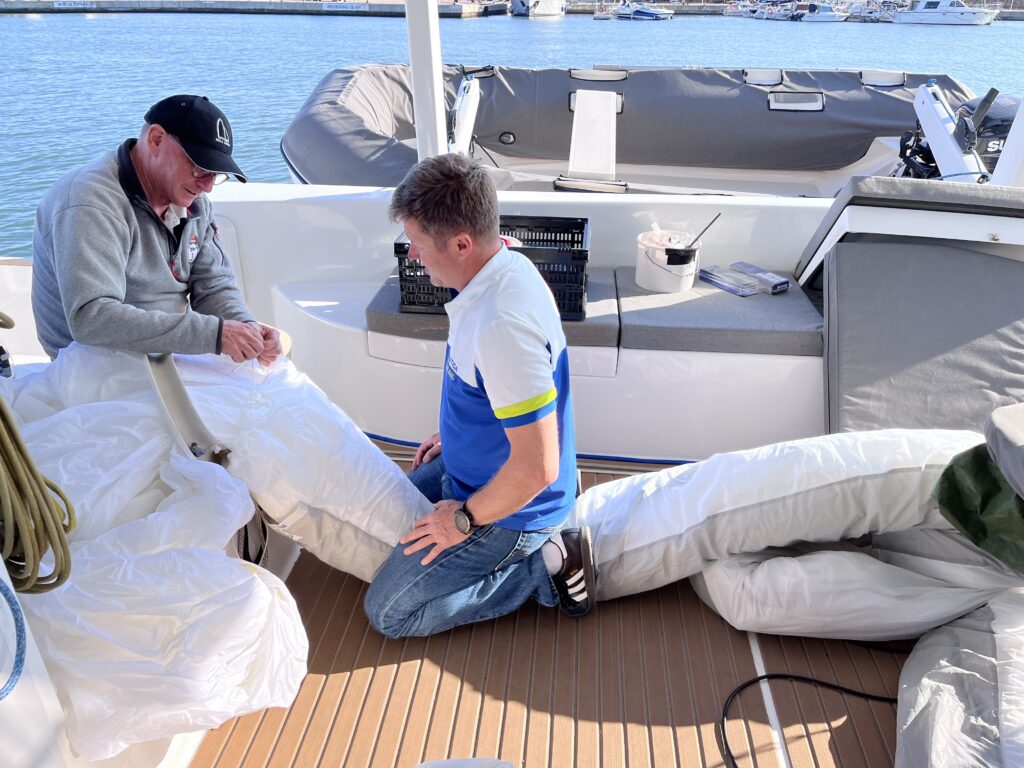 As you might have guessed, all this led to a few stressful months with pretty major learning curves. Did we fail to mention that neither of us spoke more than a "Donde es el biblioteca & mas cervezas por favor" level of Spanish… in a country called SPAIN, and we had ZERO idea where anything was (turns out most stuff is miles from the marina)…let's not forget to mention we were now in an area not known for particularly gentle wind and seas that create easy sailing! The biggest hurdle was going to be deploying the sails and using the AWS system, a particularly powerful and non-standard (aka complicated) rig without any hands on experience. Thankfully, the designer agreed to return in about 6 weeks to walk us through set up and deployment. 6 weeks was a long time to wait.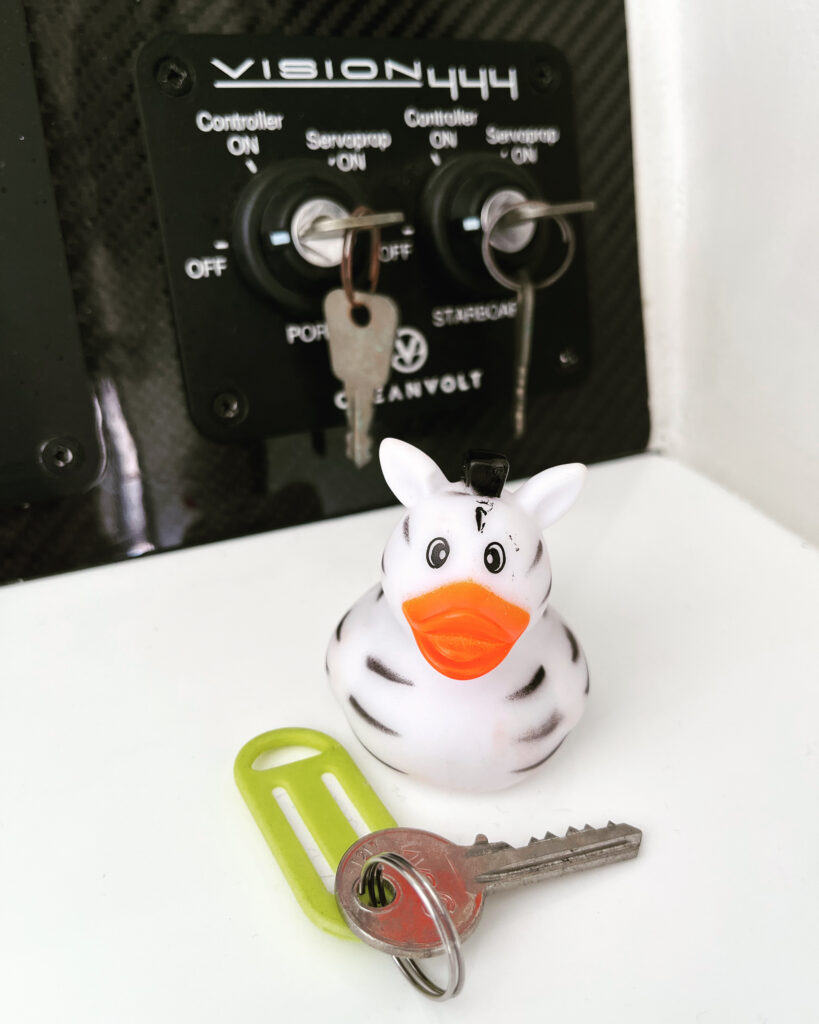 We got the keys. The others left. And it turns out we were plenty busy in the meantime…
To be continued…