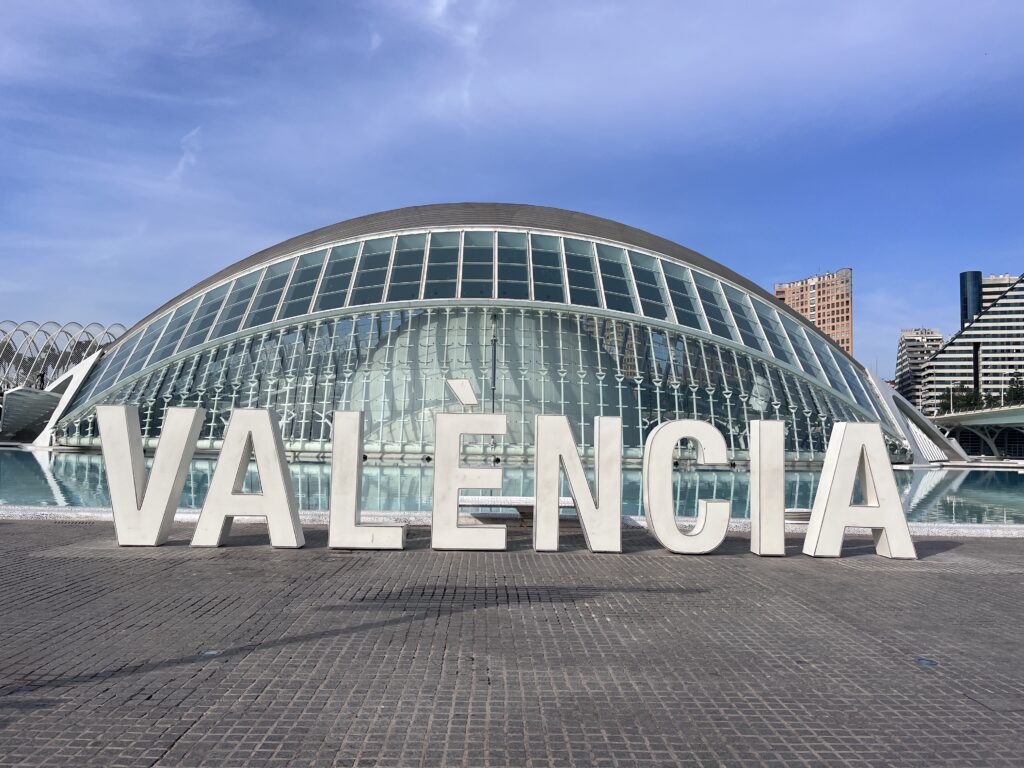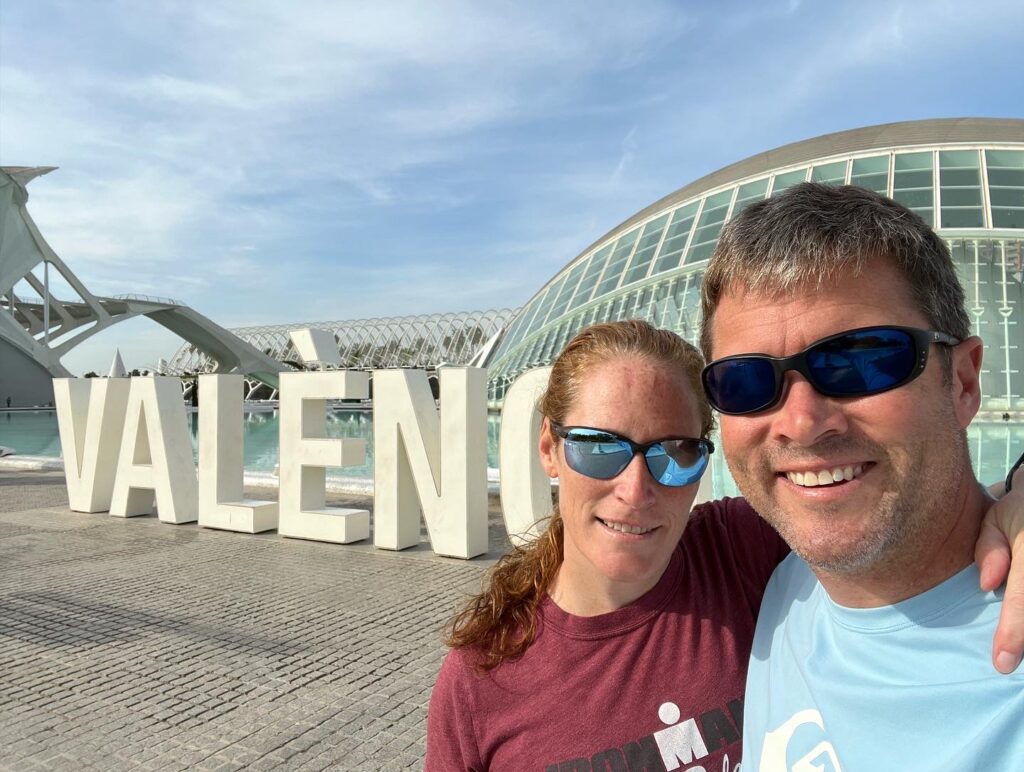 To stay that the next couple months were a bit overwhelming would be…an understatement. An absolutely amazing experience we wouldn't trade for the world, but it was a wild rollercoaster of emotions. Hopefully, you'll get a sense of both the difficult portions, but also the fun and light moments of this journey.
The first couple weeks of new boat ownership were eye-opening. We knew the boat delivery from the Vision factory in Knysna, South Africa to Valencia was a very tough and trying sail. We were aware of some issues they reported to us on turnover, but we found quite a few more as we slowly worked our way around the boat. Both of us had experience with monohulls, but a catamaran and all it's live-aboard systems was still new to us. Since the delivery missed the ideal weather window for an Atlantic crossing (the reason we ended up in Valencia to begin with), we had a few months in the Mediterranean to learn the boat, get it up to our standards, and get comfortable sailing her. All while exploring a new country with so much history and culture.
Logistics & Moving in
The first hurdle was just trying to figure out the processes of vessel turnover in a foreign country. We weren't sure how long it would take for us to turn the boat over so we rented a cute little studio AirBnB, named "My Little "Apartemento", for 2 weeks on the outskirts of Valencia proper. The goal was to give us time in order to ease into boat life…things like a deep cleaning and ensuring all the systems that we need to comfortably live aboard worked.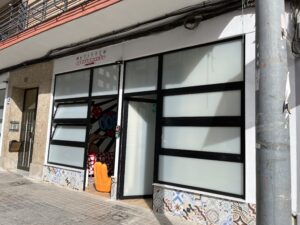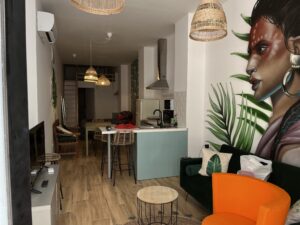 We chose the location as best we could, but upon arrival we found that the AirBnB was actually 5 mile transit to the marina. the first few days, the previous owner kindly picked us up and dropped us off. After he left we took a cab as the bus system didn't quite make it all the way out there. Getting there wasn't hard since we were staying in a the more urban area of Russafa, but getting home was always a challenge. Uber is virtually non-existent, and taxis aren't as plentiful in the marina area. Randomly, we also learned that drivers aren't big fans of coming all the way out the marina so multiple requests are just ignored. One local commented that a major reason we were being cancelled or ignored was because our requested pick up location was next to a Guardia Civil building (Spanish national police/coast guard) and they didn't want to drive near there. Our solution…we bought cheap used mountain bikes off Facebook Marketplace. They were definitely well used. The rim on mine kept shredding the tires. Kevin, kindly, got very good at replacing my tires…though it was probably b/c he couldn't stand watching how long it took me to do this myself 🙂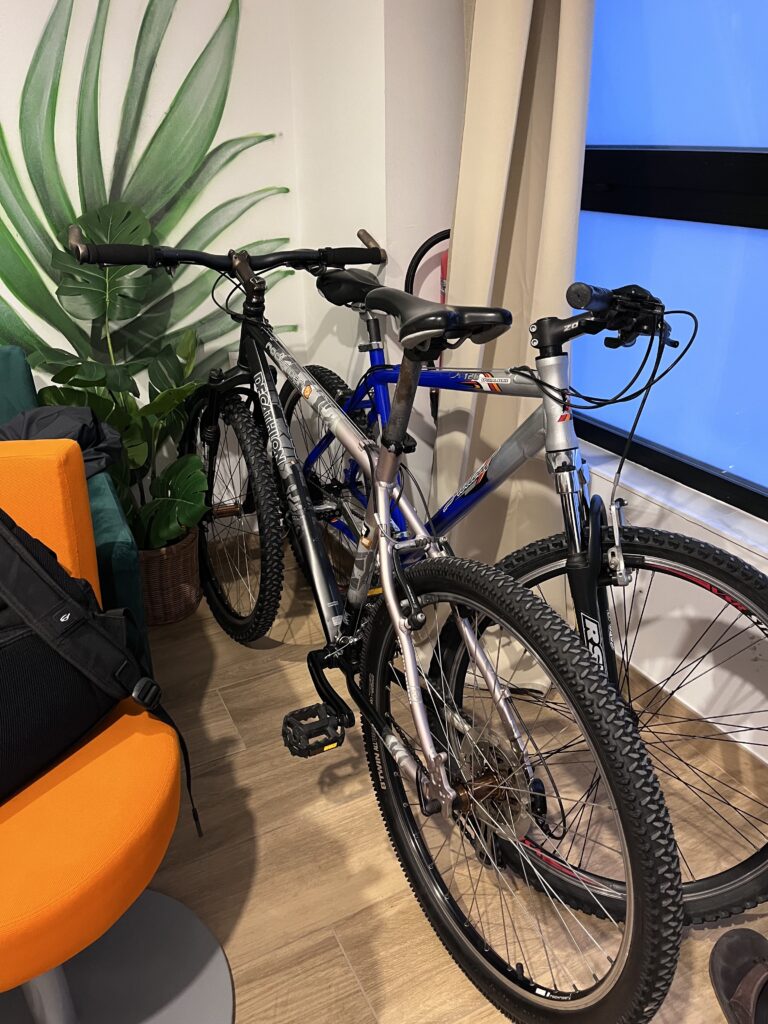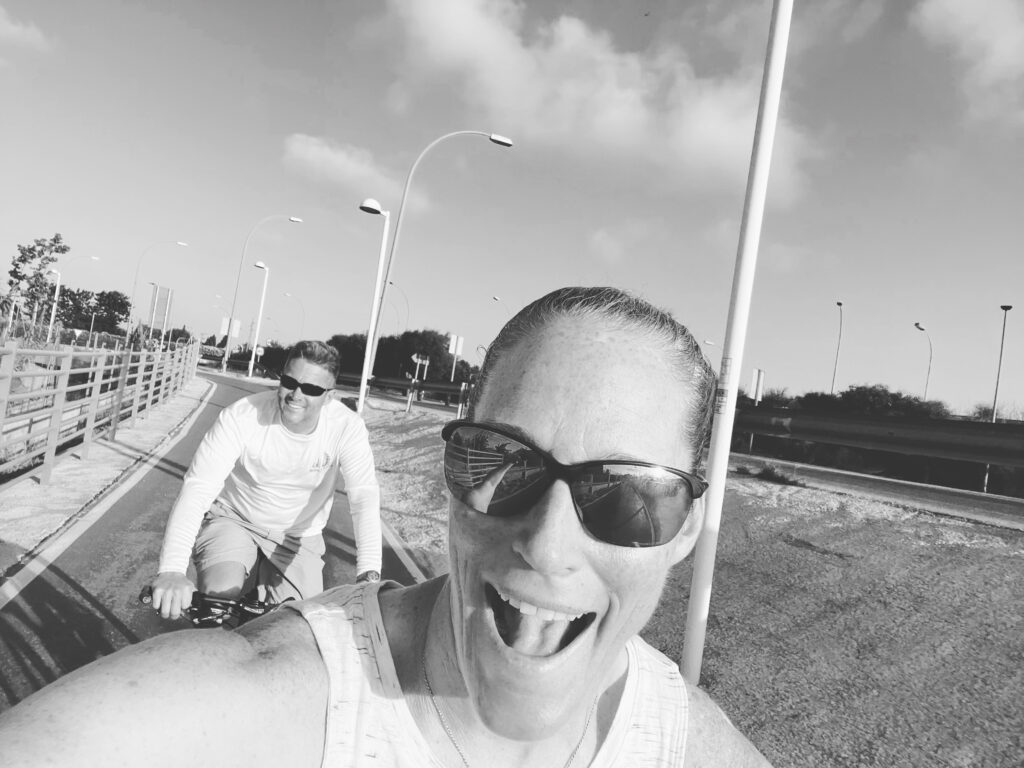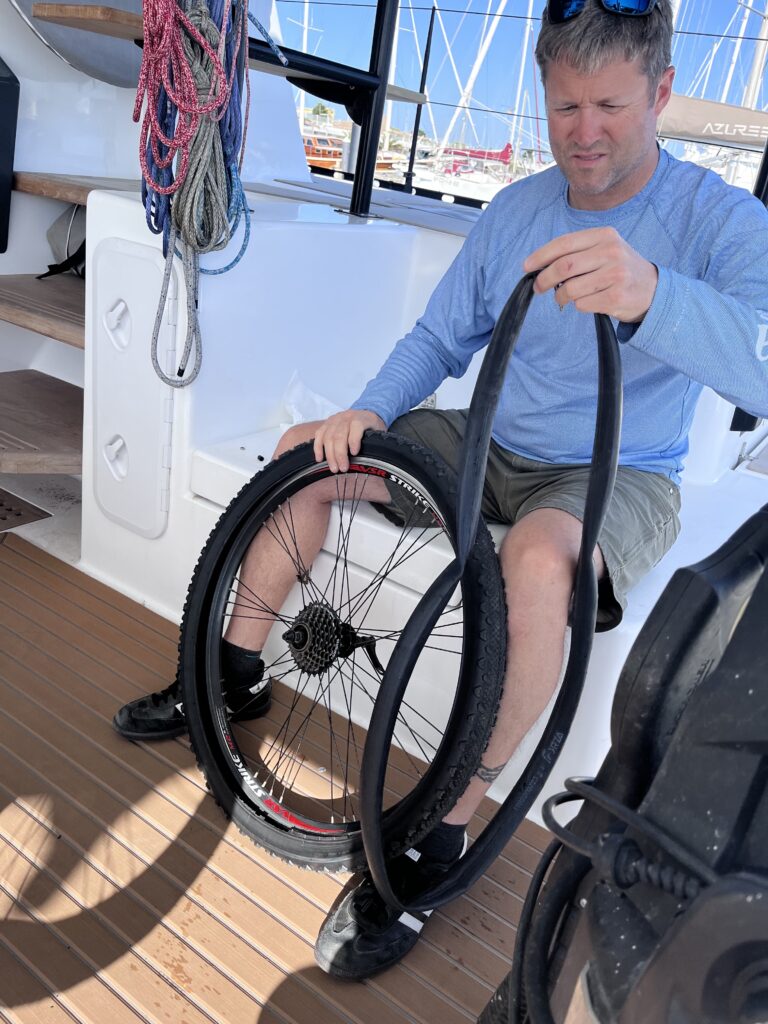 Unlike the states, city planners seem designed the city to promote cycling (and scootering). There are wide, nice bike paths EVERYWHERE! Bonus, cars actually yield to cyclists, which is mind blowing after living in Virginia Beach where we lived in fear of being hit while cycling…potentially on purpose from impatient drivers. The bikes would turn out to be the MVPs of our stay in Valencia. We rode them everywhere, often multiple times a day to get groceries, boat parts, tools, and to just explore the city. Kevin, unfortunately, ended up becoming a professional flat tire repairman over the next few months. Seriously though, one of the most bike friendly places we have ever been!
One more note on our ride between the AirBnB to the Valencia Mar marina. We got to ride through one of the most beautiful city parks (and one of the largest urban parks in Spain), we have every seen, Turia Gardens. The Turia Gardens run through the city along nine kilometres (~5.5miles) of green space (formerly the Turia River until the city got sick of the river flooding the city after every rain. During a particularly bad rainy season in 1957 Valencia ended up rerouting the entire river. Today the park boasts miles long foot & bike paths, as well as leisure and sports areas. At the end of the park, you then ride through a science fiction lovers dream (seriously see the HBO hit Westworld season 4), the "Ciudad de las Artes y las Ciencias". The City of Arts and Sciences, one of the 12 treasures of Spain, is one of the largest scientific and cultural complexes in Europe. The crazy architecture includes impressive buildings housing things like Europe's largest underground aquarium, a museum of Sciences, and an opera house to name a few. This entire complex is surrounded by mirror like white and blue reflecting pools. Hands down one of the coolest areas we have seen in our travels and made the daily bike trips a treat even in the oppressing summer heat 🙂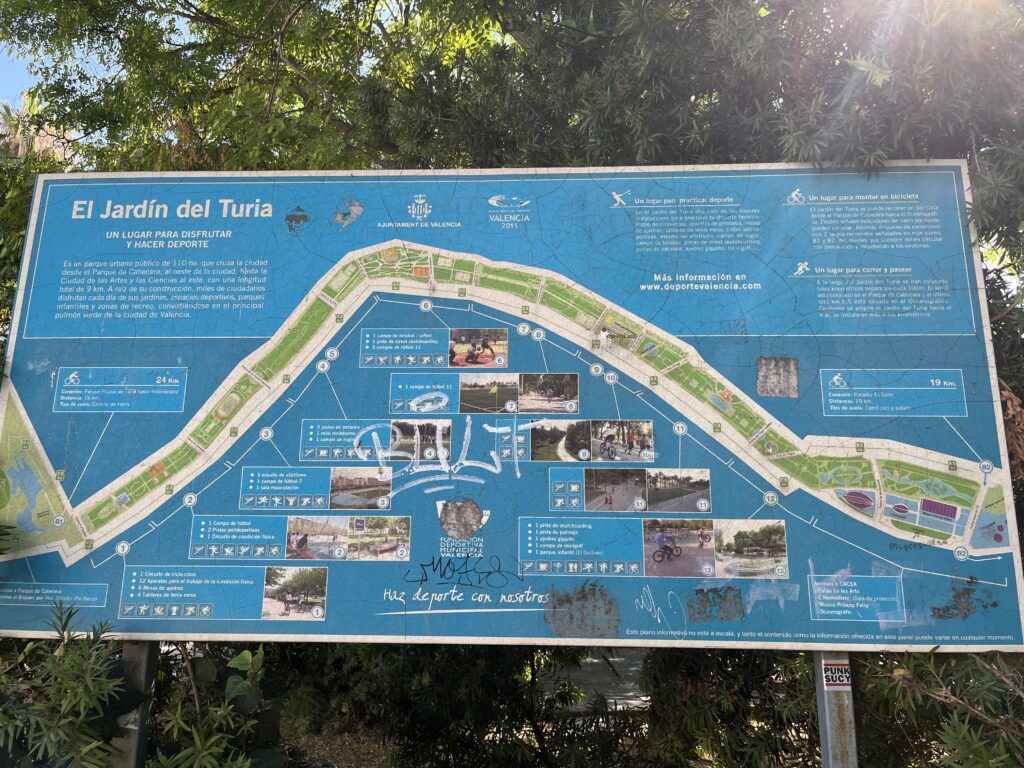 Next up was food. Spain holds on strongly to the afternoon siesta which came about before modern conveniences such as air conditioning and most work was backbreaking and done outdoors. They would rise very early, work for a few hours then eat and rest inside when the sun was at its peak, returning to work in the cooler late afternoon. Their meal times (and work schedules) still reflect this timeline. Even knowing the Spanish eating cycle, we managed to always be looking for food at the wrong times when nothing was open. Kevin ended up losing over 30 lbs alone!
In case you are interested or traveling out that way, learn from our mistakes! Spanish eating times:
0700-0900 Desayuno (Breakfast) – Being retired we never saw this. I'm sure it's lovely.
1030-1200 Almuerzo (Lunch)…but really, for LOTR fans as Sam Gamgee would put it…second breakfast. Just About noon was when we started to get hungry and begin looking for food. (Insert hanger onset syndrome here)
1400-1600 Comida (Actual Lunch) So not normal for us Americans to eat a big meal in the mid-afternoon! The Spanish eat this as their "big" meal. (Never fear, a cheesecake factory salad is still 2x as big. Your caloric intake is safe 'murica)
1730-1900 Merienda (afternoon snack) Typically American dinner time. In Spain, this is really just beer-thirty. Seriously, most places really only served beers and a bowl of nuts or flavored fried corn. (We utilized this time A LOT. When beer is ~$1.50 why wouldn't you?!)
2030-2230 Cena (Dinner) We were ready for bed after working all day on the boat by now. Seriously, we were in bed by 9pm most days. And a 2030 start time is an understatement. They start sitting down at around 2200 for dinner and eat well into 1am. For the longest time we couldn't figure out why everything in Russafa, where our AirBnB was, was always closed and shuddered most of the day and into the evenings. The most we could find after a long day was a beer and some nuts! More than a month into our stay we were out late watching some futbol and rolled through the town around midnight…and the place was like times square, lit up and hopping! We apparently were sleeping through all the fun and…dinner.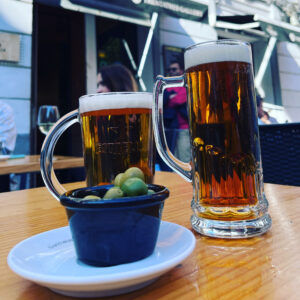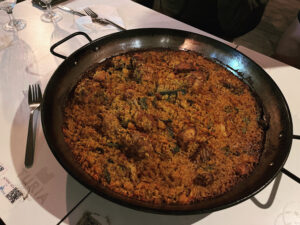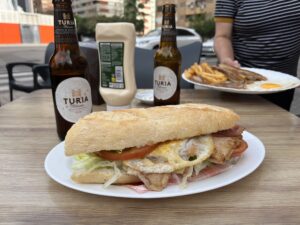 We managed to find some good grocery stores after some trial and error, a Mercadona and Consum within in a few miles and 2 huge Carrefours (similar to super Walmarts) that we would frequent almost daily for groceries. If you are ever in the area…Mercadona roasted red pepper hummus is THE BEST. I miss it already. One other amazing find was a the Too Good To Go app. At app that connects customers to restaurants and stores that have surplus unsold food at the end or middle of their day. Rather than waste it, they sell off the excess. We got so much fun stuff this way and they are not shy about how much they gave us. For about $10 we would end up with meals for the two of us for about 3-4 meals! It was also a fun way to try new places and food. You didn't know what you were actually going to be given until you showed up to pick it up. Sometimes it was amazing and on occasion totally unknown, even tasting it we weren't sure what it was. Hazard of not speaking the local language 🙂 The U.S. needs to get more onboard with this!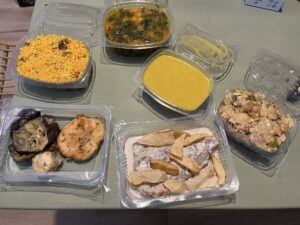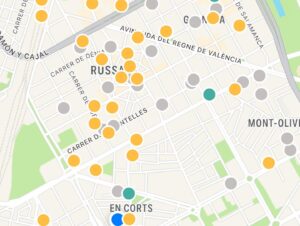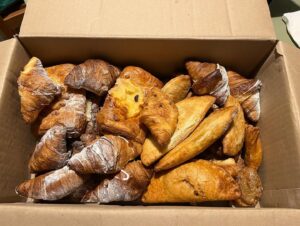 Okay, enough about all that..what was up with the boat!?
Finding our way around the boat
Day 1 standing on the boat just the two of us had us wondering "Where do we even begin"! We got the batteries back on line, so that was bonus. Now we could start to dig around and see what we have on onboard. Up to this point it was all photos and occasional videos along with our detailed survey. We started easy the first few days with cleaning…and cleaning…and cleaning. While the previous owner was kind enough to hire a couple living in the marina to clean the boat. The inside was wiped down at best, but it definitely needed A LOT more TLC and organizing. There was a lot of dirt and dust, as well as some moldy spots on the inside mostly in the port hull on the bedroom walls and bathrooms. We went through bottles and bottles of vinegar to get the boat looking and smelling good!
Additionally, outside was supposed to be pressure washed (Saharan sand and industrial exhaust from the port next door had covered the decks…this would remain a constant problem throughout our time in Valencia) but there was some issue with the dock water so a god pressure washing, sadly, never got done. We would have to wait for a big down pour to get out and scrub the decks by hand to get at least some of it off. It would be MONTHS until we realized just how dirty the decks were. They are damn near white now after transversing the Caribbean.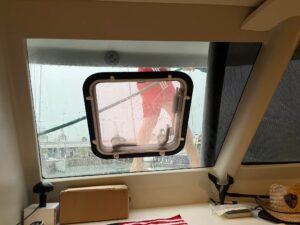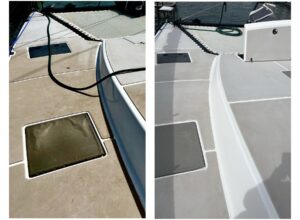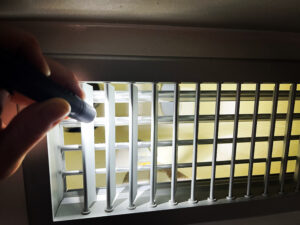 Other items we took care the first week:
We cleaned and oiled the teak around the boat.
Tested out all the various appliances

Ice Maker (Quite the hard worker…puts out a ton of ice very quickly…and uses a LOT of fresh water in the process). Drinks anyone?!
Fisher & Paykel double drawer (Fancy) dishwasher (we use one drawer for storage and one for washing)
Miele Induction Hob
LG SolarDOM Light Oven – Convection Oven/Microwave/Grill
All faucets, sinks, showers, etc
Frigoboat Fridge
Frigoboat Two drawer freezer
Samsung Washing Machine (fixed a nice little leak on this guy)
Isotemp 100L Water Maker

Pulled out all the sails and sail bags to take inventory

Large Square top multi-membrane main
Self Tacking hank-on jib
Asymmetrical Spinnaker
Code 0
Storm Tri-sail – still haven't used this one a year later!

Raised the main sail and jib to see how they looked & worked.
Pulled out all the stored cushions…only to find out we were missing 2 and had 2 random ones that didn't fit anywhere on the boat…how does that even happen?! They weren't even close to matching! The cushion covers were also incredibly dirty and maybe a bit moldy. A run through the industrial washers at the marina with laundry detergent and a lot of vinegar cleaned them right up!
Windex was totally broken and not hooked up. (Openwind was going to send us a new one)…though we never did get it working perfectly.
Cleaned the water tanks
Installed the radar reflector (A European requirement)
Clean and dried all bilges and cabinets to determine if we had any random leaks…we did, including an area that made no sense to have water intrusion. More on that later!
Tested A/C units. The port side fan motor burned out. (Warranty replacement)
One of our underwater LEDs was out (not a priority, but was eventually fixed via warranty from BlueFin)
Cleaned and/or replaced all filters we could find
Cleaned out all the storage lockers and closets to see what was left behind
Set up our little floating seat and tried it. Generally being very pale sun-adverse people, we will likely not be using this too much 🙂
Tested all the instraments and started to learn how to conserve limited energy on the boat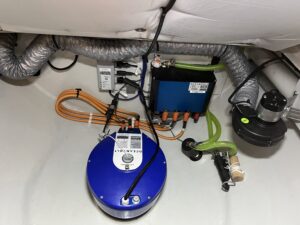 This was just the beginning…many more projects would continue to present themselves. More to follow in the next post!
Our First Sail!
Shortly after arriving, we met our first cruising friends, Brandon and Katha aboard S/V Rupe. They were docked in front of us and very kindly came over for some wine and snacks to welcome us to the "hood" and chat about their experiences. We had planned to head out the next day to just test the motors and get comfortable moving the boat on and off the dock. Brandon offered to come along to help out and lend an extra hand, being a seasoned sailor and knowing the area and marina a bit more than we did, we gladly accepted.
On May 22nd, a beautiful early quiet summer Sunday, we left the dock for the first time. Moving this big boat can be a nerve-racking process to the say the least. Thankfully we were on the end of a dock in a not super crowded area of the marina with a direct line to the marina exit. The only hitch was that we were facing inward, putting the port non-helm side of the boat closest to the dock. That means Kevin, manning the helm, had some big blind spots as to where the bow and stern was in relation to the pier. First relationship test! Can we communicate and get off the dock safely without scratching or dinging our new home? Thankfully Brandon was on board and Katha on the dock to help with lines. Bonus, it was calm day with an offsetting light breeze. We got off the dock and out of the marina without any "major" issues. Though we did forget a line on the starboard side was still attached that's anchored to the seabed and designed to pull us away from the dock. After releasing the port lines connected to the dock this starboard line did its job and pulled us away….and then acted as an anchor. We quickly released it and off we went. A perfect departure would have been very un-us 🙂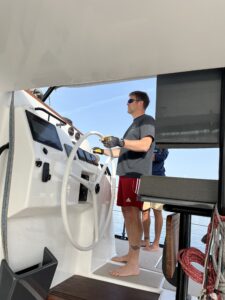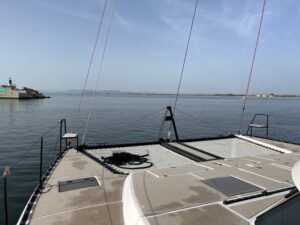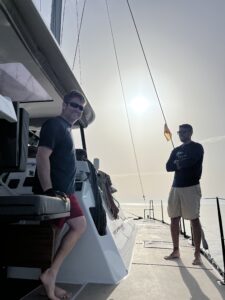 The first thing we noted was how incrediblely quiet the Oceanvolt engines were. Are they on?! We knew with the generator not putting out a lot of power, we would be limited on how long we could stay out. We didn't want to burn into the battery power to quickly so planned on a quick motor out and return. Huge credit Brandon, a very enthusiastic sailor, with talking us into putting up our sails. We had been reluctant knowing the Advanced Wing System (AWS) is a little more complicated that the average mainsail. After some back and forth conversation we figured, we were out there, why not. We would take it slow and the winds were light, if we got in over our heads we would just drop them and wait for the AWS guys to return in 2 weeks to help us out. Well we managed! We got the sails up, both the dual main and jib. We could not have been more excited to be sailing our boat. Talk about a culmination of years of planning and dreaming all colliding in one moment of realization that we were there…doing it!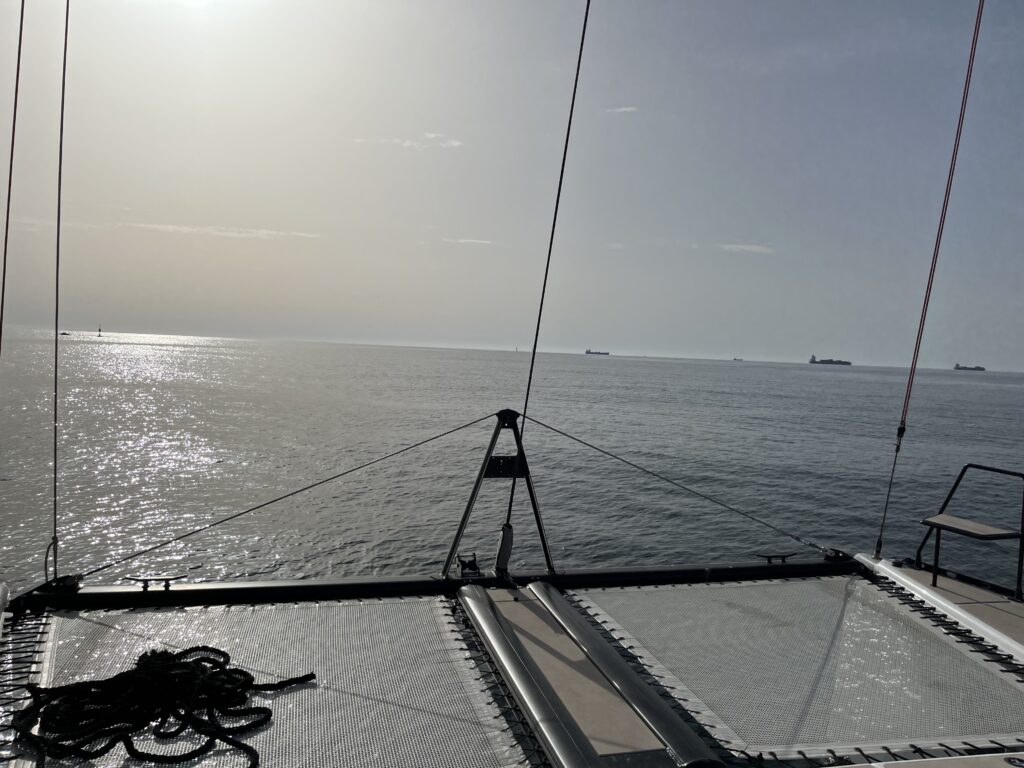 Check out a short video of our First Sail here:
Returning to the dock was another nerve-wracking experience. There is nothing like scratching your pretty new boat. Thankfully that did not happen. Of course, it wasn't without some challenges. Being a Sunday afternoon in a Marina that hosts a lot of sail schools and racing events, we came back in just as a thousand (only a slight exaggeration) little sailors in dinghies were zig zagging their way out of the marina for a day of practice and/or racing. Minor obstacle course to say the least. We just parked the boat in the middle and let them work their way around us. Then VERY slowly pulled the boat right back up to where we left…like true professionals! Katha was again on the dock to the grab the lines and Brandon there to help me figure out where I needed to be to help. Much thanks to them for help us the first time. We were so nervous! Thinking of the future movements with just Kevin and I, was a bit intimidating to me still being very new to this large wide boat and bigger-than-I'm-used-to dock lines. I was doing my best to soak everything in!
Times like this day, out sailing, enjoying time with other sailing/travel enthusiasts was a great reminder of why we chose this lifestyle in retirement as we stressed out over our early hurdles.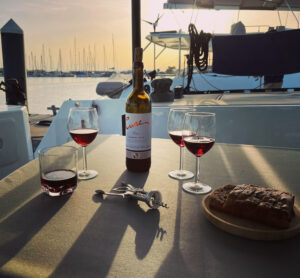 Lots of work still to do to get her ready to cross an ocean! Stay tuned as we continue to fix (and break) more things on the boat and get more comfortable sailing her…